Welcome aboard the Elite Persona-Enterprise.UK
This site is about personal refinement, yes that's right-its all about you.
Firstly, what is it to be an Elite?
Well in official terms it's about superiority, in terms of wealth and abilities.
These people are not ordinary people, as they tend to belong to the wealthiest and most talented (regarding abilities) groups.
We are going to focus our attention on the area of being the best of the best-the best you.
You see, most elites have a personalized regimen that helps support their health and lifestyle.
Some Elites might even have an unhealthy lifestyle which they are able to compensate with their own personalized health and mindset regimen – "kinda like having one's cake and eating eat" It keeps
them prepared and motivated, so they are always are able to fulfill family and social obligations.
A true Elite creates a personal health and mindset regimen that enables and qualifies them to be a cut above the rest.
How Do You Qualify?
Create a time and space specifically designated for you.
Designed to keep your mind and body finely tuned.
You see, "the look so good, feel so good" Expression, can be directed mostly at elites as they naturally emit confidence coupled with a good appearance.
To attain this does not necessarily mean you have to be rich.
To qualify means you just need to create the time and space specifically just for you.
All designed to keep your mind and body finely tuned, always prepared and ready to go.
Getting There
I can – I will
Most ordinary folks find it an uphill task to create or find a time and space to cultivate or fine-tune their overall health and mindset.
The main tendency is to prioritize work home and family; though, healthy mindset and lifestyle might be of a
minor concern.
The complaint or issue for most is that there are not enough hours in the day to attend to such things,
this site will assist you to become an Elite-to be the best of you – Please see product listings.
No matter your status in life, you can and must be prepared to create a time and space to do positive things for your health and mindset, which slightly and I mean slightly adds to your daily routine.
How Do I Get Begin?
                                                                        NO RETREAT
Create and find a time and space to practice your new Regimen that caters to your physical and mental health.
– As a formality and a significant part of your preparation please consult your Doctor/GP for a health check and depending on what level of health you are at both mentally and physically it is always advised to start gently and with caution.
– We make sure that most of our site products provide instructions and guidance step-by-step instructions, that will help you begin safely and in a way that will enable you to monitor your level and progress.
– A good area to start particularly if you are a beginner or have been out of action for a long time is your breathing and lung capacity; it's a matter of learning to walk before you start running – Click here – Home
How will this Elite journey benefit me?
NO SURRENDER
Well the best way to approach the answer to this, is to look at the advantages of taking action and the impact it will have on your overall well being and the disadvantages if you do not?
Pros for being an Elite.
– Positive appearance
– Diet Conscious
– Healthy look
– Improved breathing and lung capacity
– Improved coordination
– Greater flexibility
-Improved Stamina
– Let us not forget improved circulation and heart (Cardio vascular)
– Plus the release of endorphins (feel-good factor) and so much more.
Cons for not taking action.
– Morning stiffness and pain particularly if you are elderly.
– Fatigue
– Stamina issues (lack of stamina)
– unnecessary weight gain.
-Possible weak immunity
– Lack of endorphins can lead to depression/anxiety and much more; clearly not a good look and most definitely not an Elite.
                                                               AN ELITE FEELS GOOD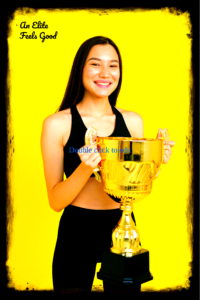 –