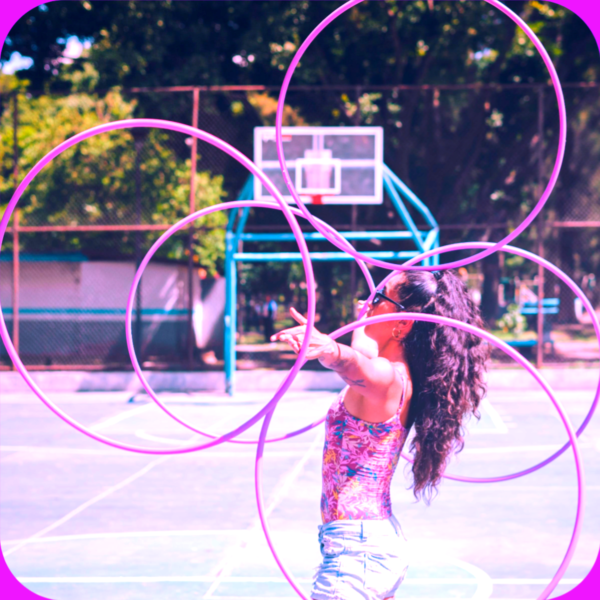 THE HOOP
I suggest that this will be a very significant and extremely effective keep fit exercise tool to have in your armoury. More so, if you are planning to follow through with your own personalization regimen, this will most definitely be a good start.
Let us Have A Closer Look
The shape of a Hula Hoop is in the shape of a ring or a large tubular circle and can vary in size.
Generally, there are 3 sizes but you can arrange to have it customized to your required size.
To use a Hula Hoop you can place or position the hoop around a specific part of your body such as the waist, ankle, neck, wrist, and so on. then rotate or spin the hoop in a steady motion, accelerating it, until it oscillates around the chosen body part.
Today Hulla Hoops are mostly made of plastic tubing, the more advanced you become the more likely you will need to upgrade to a lighter, high density, durable and maneuverable hoop.
There are several types of Hula Hoops that can be attributed to your needs- Please see below:-
– Normal Plastic Tubing
( the type used in plumbing installations)
– Polypro-Polypropylene
(the type of plastic you will find used for piping and bags)
– HDPE- High-Density Polythene
( a petroleum thermoplastic, high density, durable and flexible – very good for more complex tricks and maneuvers)
– PVC – Polyvinyl Chloride
(again very good when moving up from basic to the next level)
Brief History
The origins of the Hula Hoop can be traced back to 500bc Pre- Roman Iron Age.
Though, note approximately 15,000 years ago the Native American Indians used Hoops to tell stories in dance;
so. it is a little ironic that an American woman who visited Australia during the 1950s, returned to America and introduced an Australian Bamboo Hoop and by 1963 a popular American Toy company called Wham-O had it patented.
This Australian Hoop was made from Bamboo; though the original traditional Hula Hoop was made of grapevine, stiff grass, or branches.
Oh, and by the way, it is said that the term Hula originated from the Polynesian Hawaiin dancers.
Benefits Of Usage.
It is clear that this invention has passed the test of time and that gives a clear indication of its effectiveness and reliability.
So you ask what are the benefits of using a Hula Hoop?
– Firstly, it creates an abundance of endorphins – the feel-good hormone
– High-calorie burner
(180-200 calories 30mins of use)
– Extremely good for the heart
(cardiovascular)
– Plus helps with balance and movement, coordination, and much more.
Please note- Always start slowly and with caution. If you have any major health issues consult your doctor or health adviser before use.
If curious take a look at our recommended Hula Hoop called The Olakino Weighted Hula Hoop Premium Fitness
CLICK HERE – https://amzn.to/3k9ABmS
Bye for now.