Hi, How ya doing?
Most keep fit, healthy living "type" People do not know how effective and reliable the Push Up Board is, and as of today
once you have read this; you will have much respect for this ancient and very effective piece of exercise equipment.
Due to its effectiveness and reliability. this board is used today in Military, Athletics, and combat training.
This piece of equipment goes back in time and is still used by professionals to this very day, due to its ability to
help increase natural endurance and strength; whether you are male or female.
Whether you perceive yourself to be a keep-fit enthusiast, a Martial Artist, or an Athlete; if you are unaware of the Push-up board you will find that its origins go back to ancient times and are still used to this very today and I do not doubt that after today you will want one – Just keep reading.
IMPRESSIVE HISTORY ( BRIEF VIEW)
Its origins date back to ancient times in Media (Iran) used for Military training to help develop strength and endurance
The Palavani Empire (238 BC – 224 AD) developed this into Varzesh-e Palavani (Sport Of Heroes) known also as the Bastani (Sport Of Ancients) or Pahlavani.
Over the years the Pahlavani spread into areas we now know as India Pakistan and throughout the Middle East.
Indigenous Indian Wrestling, Hatha Yoga, and Indo – Pakistan are just some of the areas and places where the Push-Up Board evolved and was established.
The origins of the Push-Up Boards are amazing and have proven themselves a significant piece; it has temporal validity and has most definitely stood the test of time.
The exercise routines where it has played key roles have earned impressive titles such as:-
Sport Of Heroes
Sport Of The Ancients
House Of Power and Strength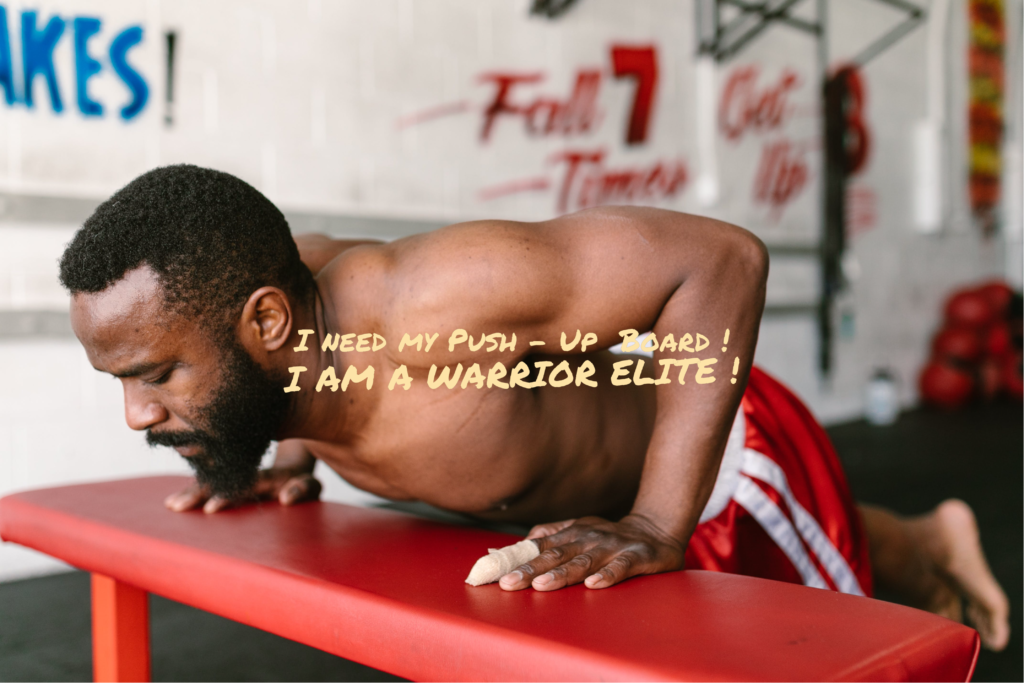 You see the Pahlavani exercised for strength stamina and combat, used in preparation for invaders.
You needed to be pretty strong and have a lot of endurance as the weapons of war in those days were at times extremely heavy and dangerous to use.
Physical Ability
Please see below the weight of some of the weapons used in ancient times and take into consideration that they would be carried manually for miles on end before the battle:-
The Club – weight 5kgms – 40kgms ( approx 20lb)
The Bow – Weight 60kgms (approx 30lbs)
The Shield – Weight 60kgms – 120kgms (approx 60lbs)
Also, take into consideration that they would have to use these weapons in combat mode; twisting, spinning, swinging, stretching, and lifting combined with tactical body movements – what a workout!
Clearly, combat techniques and movement are other areas covered and specialized by the military. The Push-Up Board focused on targeted areas of the body and played a significant role in the mastery or completion of that training.
Today the Push-Up Board is recognized and used worldwide by the best of professionals; though not necessarily recognized by this generation of keep fit, healthy living, and bodybuilding enthusiasts.
Now ElitePersona-Enterprise.Uk is a vehicle that helps bring the most natural and effective means of exercise and training and the Push-Up Board has a reputation for long-term strength and endurance.
If you desire or require real long-term strength and endurance then you must invest and reap the benefits of a proven system of strength building and endurance.
Used by the heroes of the past and is still used today by the military and professional athletes.
Be the best of you; compliments of Epersona-Enterprise.
Click the link and find out more – https://amzn.to/3ursDuH
Enjoy The Journey.